Current Vacancies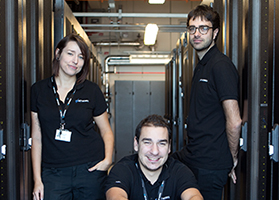 EXN are a specialist, privately owned ISP and IaaS provider based in South East London.
Since 2008 we have been designing and managing complex infrastructures for a range of clients, from established enterprises to clients in emerging markets such as AI and IoT. We partner with our clients to provide innovative solutions for their unique challenges, whether it's ongoing infrastructure improvements, expansion plans, or migration of legacy services into a "Cloud First" strategy.
We are on the constant look out for new talent that will compliment our growing team. Please see our current vacancies below:
If there are no vacancies available, please check this page again, or
contact us
with your CV if you are interested in any future opportunities.
Agencies - At EXN we manage our own recruitment. Agencies need not apply.
Senior Network Engineer - 201910-NETENG
EX Networks is looking for a full time Network Engineer to join our London based team.